FACE THE SUN WITH GOOD CONSCIENCE
All natural, organic, and unisex, it ensures a safe and effective broad-spectrum UVA/UVB protection all throughout summer – and beyond!
The best part? This urban day cream fits the whole family!
Our innovative mineral-based sunscreen Beam Balm (SPF15) is your new best friend! 
All year round! Sunscreen should be applied all throughout the year, also when the sun isn't shining (yes, damaging UV rays can penetrate clouds).
That's where Beam Balm comes into the picture. Invisible on the skin, easy to apply and super smooth, the product leaves a flawless finish and a delicate scent on your skin. 
With an exquisite smell of ginger and woody vetiver root, both men and women can enjoy its protecting benefits. An urban day cream with zero use of invasive chemicals, Beam Balm is your new regular companion, fitting easily into your everyday bag. Come rain come shine; Beam Balm always has your back (and your face).
iLoveEcoEssentials is all about sustainability and raising the level of quality within the world of hotel amenities and natural, organic skincare, and our Beam Balm is no exception to the rule. The yellow tube is made with collected waste plastic and eco-friendly bamboo, and the products itself has a 2-year expiry date. That's our promise to you; a quality sunscreen that truly does what it promises while at the same time protecting the environment.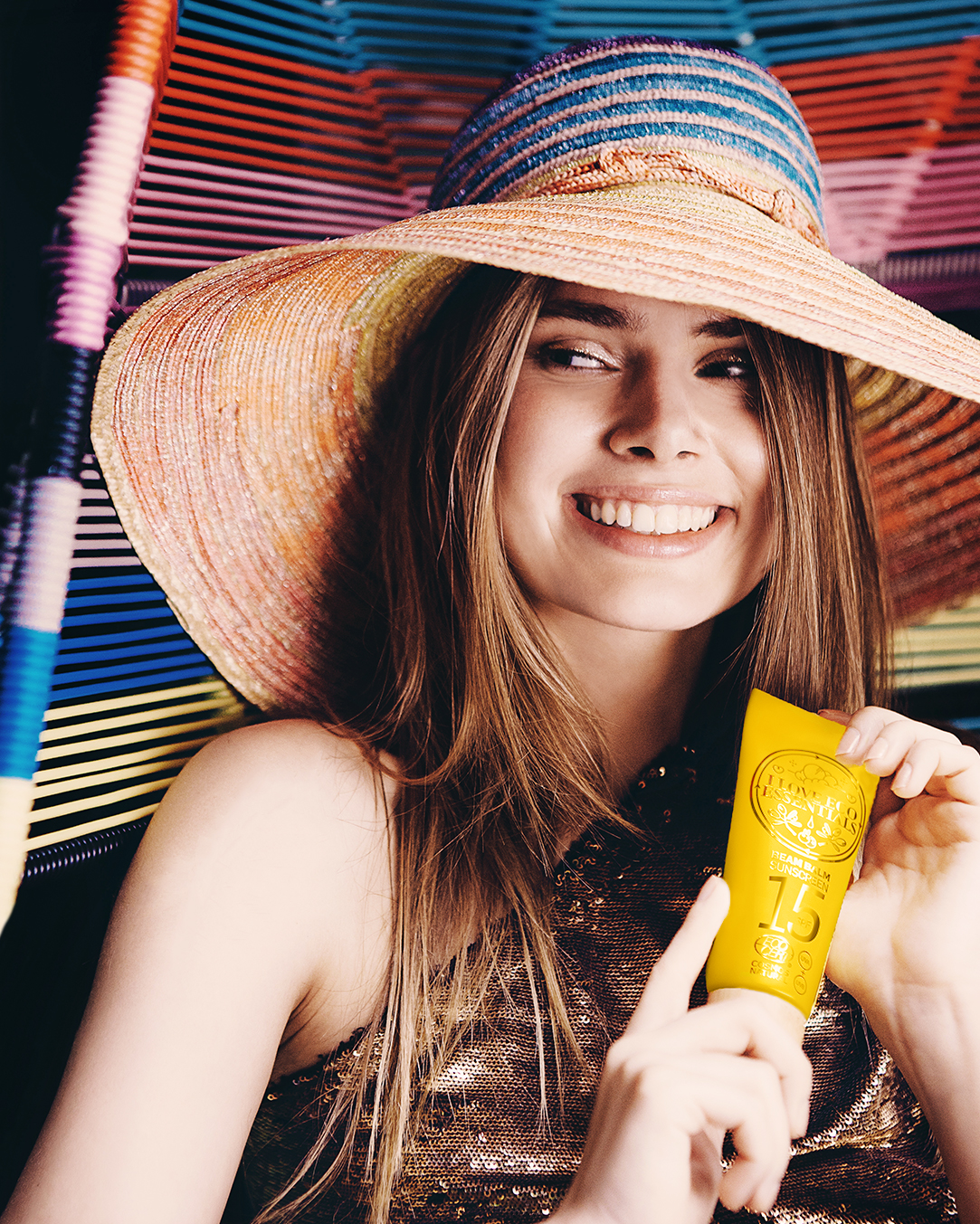 CHOOSE NATURAL AND HELP PROTECT THE OCEANS
Natural is good. Also, when it comes to what you put on your skin.
There's a world of difference between a chemical and a natural (also known as a physical) sunscreen. Most of the sunscreens you find in drugstores and supermarkets, are chemical and thereby full of negative side effects for both us and mother nature.
It's quite simple, really. While a chemical sunscreen penetrates the skin and absorbs damaging UV rays to protect it, a natural sunscreen sits on top of your skin without penetrating your bloodstreams.
The reaction kickstarted by a chemical sunscreen eventually leads to generation of free radicals, which has a negative effect on the health. In the end, this can even cause severe illnesses – not to mention the harmful effect chemical sunscreens have on our oceans.
Speaking of our oceans; did you know that chemical sunscreen filters are so pollutive that they directly kill coral reefs? This has caused the island of Hawaii to act on the issue. In 2021, they became the first US state to ban chemical sunscreens containing the harmful ingredients, Oxybenzone and Octinoxate. Last-mentioned ingredients have proved to be harmful to both humans and our oceans.
By choosing a natural, mineral-based and family-friendly sunscreen like Beam Balm, you're making an active choice to protect both yourself and the environment. The circle is complete.
☀️ YOU'RE READY TO FACE THE SUN! ☀️
While a chemical sunscreen can be applied with loose hand on body and face, a natural sunscreen must be applied with greater awareness – simply because all spots and areas must be covered to obtain full coverage. Have this in mind when you apply Beam Balm. By the way, it fits perfectly into your handbag and can be applied as many times during a day as you want. Both adults and children can enjoy its benefits – but be careful! Beam Balm can be addictive 😉
ENJOY!